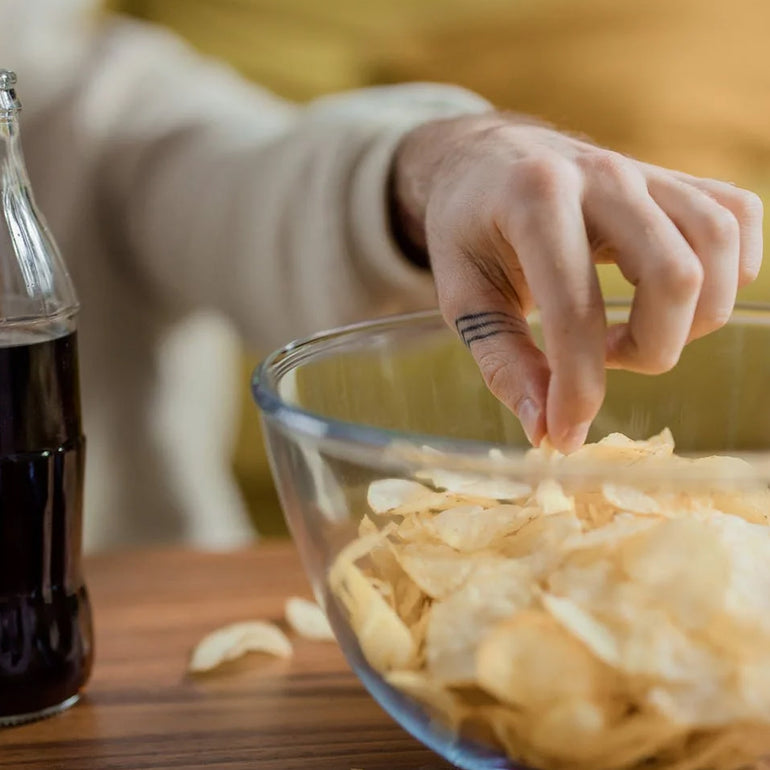 Healthy Snack Alternatives to Potato Chips You Can Find in Singapore
Everyone's favourite snack is simply irresistible. 
Depending on the part of the world you snack in, you may know them as potato chips or potato crisps.
Potato, po-tat-o, you get the drift. 
Peeled and sliced, the humble spuds are then baked or deep fried till crispy perfection and garnished with a secret recipe of salt, herbs and spices.
You can enjoy them straight in their natural shape (hyperbolic paraboloid) or crinkle-cut ruffles in a variety of savoury flavours like black pepper, sour cream, barbecue, cheddar cheese, salt and vinegar.
Have we mentioned they're crispy and crunchy to the bite? 
While it's hard to resist opening bag after bag of these manmade wonders, potato chips are best enjoyed in moderation. 
Potato crisps have little to no nutritional value, containing little fibre and protein while being high in fat.[1] What's more, even 2 servings (36 chips in a 2-ounce or 56 gram bag) can contain as much as 660 milligrams of salt - around 29% of the recommended daily sodium intake.[2] 
Looking for healthier snack alternatives to potato chips at crunch time?
Here are recommendations that are perfect for enjoying at home, an outdoor picnic, a day at the beach or in an office pantry:
1. Calories, who's counting?
(http://www.patsoven.com/shop/dried-fruits/berry-mixes/)
Our Berry Apricot Bursts are low in calories (110 to be exact) yet high in flavour. A mix of cranberries, raisins, goji berries and diced apricots, this snack has no added sugars and is low in fat and sodium. Suitable for nut-free, vegan, gluten-free and paleo diets. 
2. Gluten Not Included 

Our gluten-free snack range offers a variety of fruits, nuts, vegetable chips, seeds, beans, and peanut butter to satisfy your tastebuds without the ensuing abdominal discomfort [3]. Our Cheng Tng-inspired snack (without the soup of course) is a cult favourite (for cults who don't like soupy desserts).
3. Good ol' Peanut butter 
A little peanut butter and jelly never hurt anyone. Unless you're allergic to peanuts – scroll down for our nut-free snacks. If you're not, peanut butter is a good source of vitamins B and E, protein, magnesium, iron and zinc. [4] Try our range of unique peanut butters blended with sea salt, coffee and dark chocolate – there are even portable squeeze packs for bringing along on a hike.
4. Nut-free but Flavourful
Who said you can't enjoy snacks without going nuts? Our nut-free collection brings munch and crunch with a savoury punch. Lightly sprinkled with a dash of cinnamon, our Brown Sugar Magic Beans are a perfect pairing with coffee on your next break.
5. Vegan and Plant-Based Crunchies 
Whether you have a strict vegan or more flexible plant-based diet, we've got the snacks for you! Our Coffee Almond Crumble Bar is a great vegan treat comprising a red quinoa bar with hints of almond and coffee that collapses with every bite. Our Crunchies Honey Mustard Soy Crisps marries soya crisps with honey mustard, rosemary and chives for a tasty plant-based treat.
6. Crackers 
Our crackers not only pack a crunchy punch, they're savoury too. Enjoy a deconstructed burrito without the calories with our Mexican Rice Crackers with Baked Cashew. If you need a dash of Thai Sriracha hot sauce flavour, go for the Sriracha Multigrain Crackers to spice up your tastebuds.
7. Pretzel 
Who doesn't like pretzels? Made of something salty, something crunchy and something sweet, our Peanut Pretzel Muddy Bites comes in a re-sealable, small-serving package so you don't bite off more than you can chew. Snack responsibly.
Buy our snacks here!
For buying individual snacks for yourself or loved ones as a gift, building a monthly snack subscription box or purchasing snacks and care packages for the office pantry, click on the buttons below for a fast check-out.
Sources: