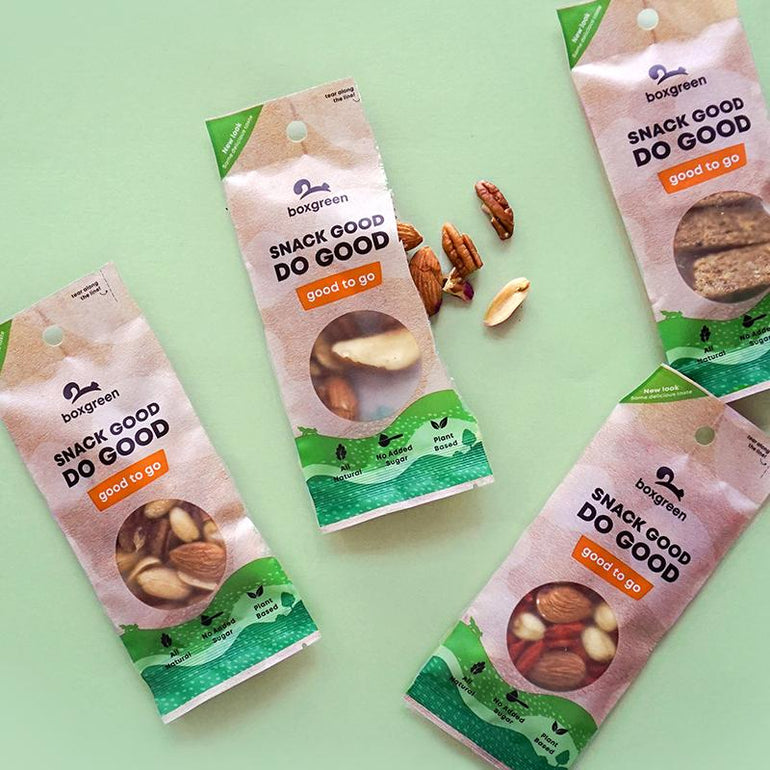 The heart behind our packaging design
As a people-focused business, we care about our people, our snackers – YOU! We care about what you eat, but we also care about how you eat! To start with, we put in a lot of thought into designing our packaging to make your snacking experience fuss-free.
We care about our planet too! As you snack with us, we are building a sustainable business with commitments to responsible sourcing. We're actively discovering better practices in packaging, and we're committed for the long haul.
Designed with you in mind – Good to Go
Rushing off to school? Need a quick snack while working? We've got you covered. At Boxgreen, we believe snacking should be fun, easy and nutritious. With our handy single serve packs, snacking has just become more convenient than ever. Just grab one and you're good to go. In fact, we specially designed it such that you won't get your fingers dirty. Simply tear, pour & indulge! It's that simple! And you wouldn't need to worry about gobbling down an entire bag of snacks unknowingly as our in-house nutritionist ensures that every Boxgreen snack is portion controlled.
Story behind our design concept 
Designed with our vision – "Happy, Healthy, People and Planet" in mind, we wanted our design to reflect that all our snack ingredients are natural and free from artificial flavours or colouring. To show our commitment in this sustainability journey, we kept shades of green and brown as our main colours. We also incorporated some vibrant colours to add joy to your lives! Always keeping people and planet at our core, the rolling hills, trees and nuts symbolise our beautiful and healthy planet that we care for.
Thinking one step ahead
We plan ahead so that we can get real results from our sustainability efforts. All our boxes are made of recycled material and are 100% recyclable. But we're not stopping there – we're constantly looking for ways to reduce the amount of material used in our packaging, particularly when it comes to plastic. It's an ever-evolving balancing act between reducing and ensuring that our packaging does what it was designed to do. Short shelf lives can result in lots of sad faces and wasted snacks!
Our team looks into every single detail from aesthetics to usability to sustainability. We'll continue to put our best foot forward to deliver the best for you and for the planet.


💚 Happy snacking! 💚