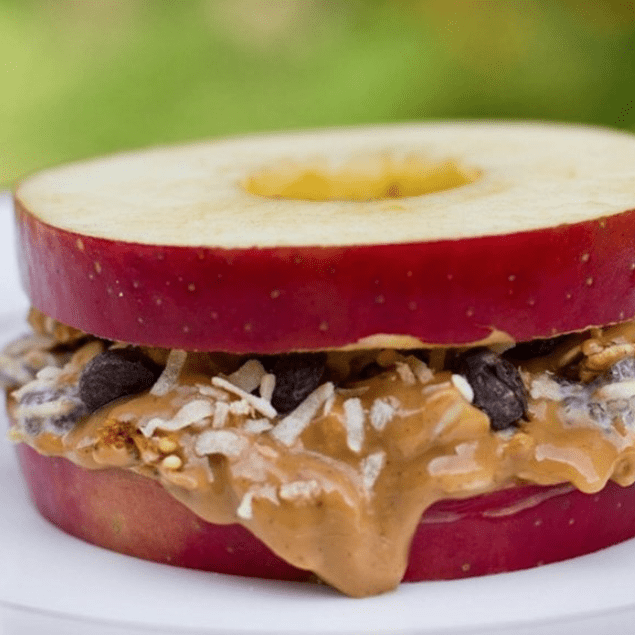 Insanely easy snacks for lazy people
Don't worry, (almost) none of us inherited our Ah Ma's absolutely amazing cooking skills. How did she make that fish head curry and O.M.G., that yummy tau pok! But it's okay, we can try making some atas looking snacks effortlessly that would certainly wow her (or give her a good laugh/frown).
Idea #1: Peanut butter and banana bites
What Ah Ma would say: "What is this? Goreng pisang?"
What it actually is: Wholewheat tortilla wrap with creamy peanut butter and banana. Mmmm so easy and so good! For a healthier option, try using 100% pure peanut butter instead. If you're not a fan of peanut butter, almond butter works equally well! ;)
Idea #2: Apple granola burger
What Ah Ma would say: "Your apple cut wrongly liao... come Ah Ma teach you!"
What it actually is: Sliced apple with a layer of nut butter and flavoured granola. 
Idea #3: Cheesy pretzel sticks
What Ah Ma would say: "This one can eat or not?"
What it actually is: Cheddar cheese wrapped around slices of ham with a pretzel stick. 
Idea #4: Microwave omelette with tomatoes, cheese and some greens
What Ah Ma would say: "Stop stop! Don't cook eggs in the microwave, later the whole house will burn up!"
What it actually is: Scrambled eggs in a mug. Top it up with some crunch like mocha almonds.
P.S. I assure you it's safe to microwave it, so just do it when Ah Ma isn't looking :P
Recipe here. 
Idea #5: Chocolate banana oat balls
What Ah Ma would say: "Why this fishball look like that?"
What it actually is: Frozen mashed bananas rolled with oats, chocolate chips, nuts and nut butter. It's a great post-workout snack as it's full of protein and fibre!
Now you can go ahead and surprise your Ah Ma! Or maybe wow her till her jaw drops with these Ah-Ma-zing looking food creations.
BONUS!
Idea #6: Boxgreen snacks
Yes... I feel you. On some days, you're just feeling really tired (or lazy) and you don't feel like making yourself a snack, but yet you're felling a lil' peckish. Don't worry, we got you covered with some these tasty and nutritious snacks.