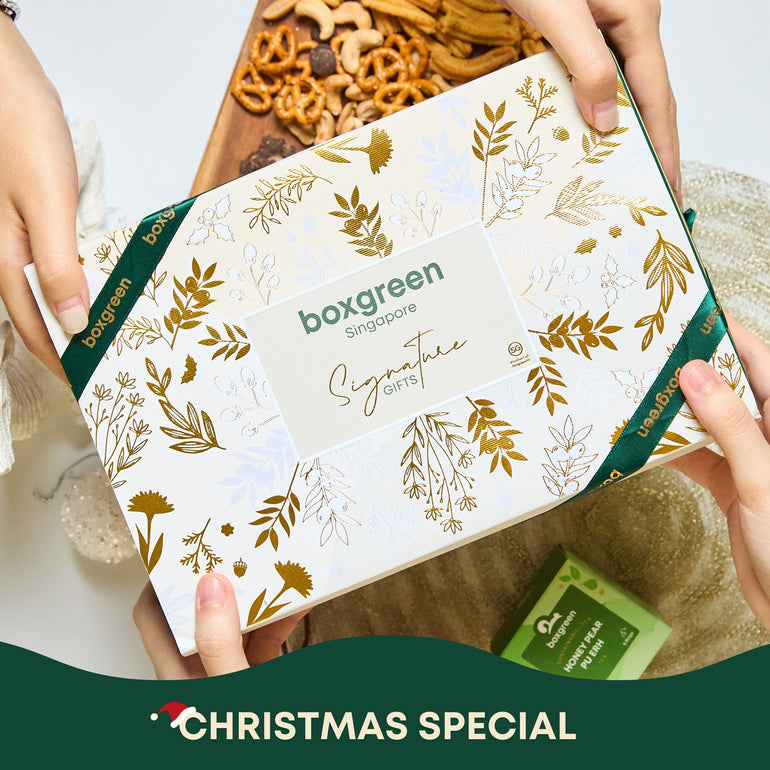 Christmas 2022: A Gift That Gives Back
Christmas 2022 - MINDS x Boxgreen
At Boxgreen, we create meaningful job opportunities for those who have experienced barriers to employment, we hire our people through an inclusive Open Hiring policy. We then provide our staff with ongoing training and development to enrich their work experience. 
This Christmas, Boxgreen has partnered with Movement for the Intellectually Disabled (MINDS) to help empower differently-abled communities.
MINDS x Boxgreen
(MINDS) was founded in 1962 is a voluntary welfare organisation based in Singapore, that provides services for the intellectually disabled and remains one of the largest charities in Singapore. Over 600 staff and 2,400 beneficiaries are a part of MINDS. MINDS' mission is to empower every individual with special needs and their families to enable them to participate as fully as possible in society. 
To help the intellectually disabled gain employment, Boxgreen has hired 5 individuals to assist us in packing and preparing our christmas gifts this year. All our Christmas gifts this year is handpacked with love. 
Two of our awesome individuals at MINDS assisting us with our signature tea cubes and snack boxes

From corporate gifting to personal gifts, let us handle all your gifting needs
What is inside our Christmas Collection?
Our Christmas Collection embodies the spirit of joyful gifting! We have a wide variety of gifts to choose from. From our plant-based snacks to our botanically-flavoured teas and vegan chocolates, we truly have something for everyone.
Christmas Signature Gift Set ($48)
Treat your loved ones with the Boxgreen Christmas Signature Gift Set, a specially curated collection of gourmet snacks, indulgent chocolate bites and refreshing tea blends that is sure to impress even the most sophisticated foodie. The exquisitely designed collection of plant-based treats are made with sustainably sourced high-quality ingredients. The Christmas Signature Gift Set arrives ready for gift-giving in Boxgreen's signature ribbon-tied tin box. Create everlasting memories this festive season with the gift that gives back!
Joyful Tea Gift Set (4 tea cubes) ($32)
Savour the special moments this holiday and revitalise with the Boxgreen Joyful Tea Gift Set (4 tea cubes). From classic green teas to earthy and fruity delights, this quartet of premium tea blends is the perfect gift for any tea lover in your life. The rich and aromatic blends of Lychee Green Tea, Caramel Hojicha Tea, Honey Pear Pu Erh Tea and Osmanthus Oolong Teas are the perfect way to bring a moment of warmth and comfort to your day.
Joyful Tea Gift Set (2 tea cubes) ($18)
Look no further, the perfect pick-me-up for your afternoons is here! Boxgreen's Joyful Tea Gift Set (2 tea cubes) comes with a duo of aromatic and truly unique premium tea blends - Lychee Green Tea and Honey Pear Pu Erh Tea, which bring warmth and relaxation with every sip.
Festive Chocolate Gift Set ($16)
Boxgreen's Festive Chocolate Gift Set is a chocolate lover's dream. These plant-based chocolate bites are made with premium Callebaut chocolate and high quality, sustainably sourced ingredients that deliver a satisfyingly indulgent experience with every bite. Choc Bites are made out of all natural, plant-based, vegan friendly ingredients that are packed with antioxidants to guarantee you a guilt-free snacking experience. With three of the best-selling flavours - Sea Salt Dark Choc Bites, Coffee Almond Dark Choc Bites and Fruit and Nut Mylk Choc Bites, you are guaranteed an effortlessly tasty treat each time.
Joyful Christmas Hamper Gift Set ($188)
Introducing the ultimate Christmas gift - our Joyful Christmas Hamper Gift Set. An exquisite, woven basket full of our scrumptious snacks, Asian-inspired teas, decadent chocolate bites, creamy nut butter and a bottle of fine Bottega Prosecco. It's the perfect gift for that special someone in your life.
Our Social Impact
Boxgreen is a certified B Corporation – which means our efforts significantly benefit people in our local community. B Lab, which administers B Corp certification, is a non-profit network which promotes companies being a force for good, benefiting people, communities and the planet. Boxgreen is proud to be a part of this organization which values transparency, inclusiveness and social accountability. Learn more about our B Corp certification.
When you order a Boxgreen gift, you are supporting our mission – to provide employment and to further the message of inclusive employment in our community.
Our holiday and everyday gifts – delicious snacks with personalized messages and festive packaging – send just the right message!
With every gift you send – you are truly changing lives for the better. Snack Good, Do Good.